What is Amazon Listing Optimization?
If you are an Amazon seller, at some point or another you will find yourself needing to optimize one or more product listings. Having worked with some of the top brands on Amazon we always are gaining better insight of what is working and what isn't working.
Amazon listing optimization is the process of improving one or more elements of your product's listing.
A product listing can be broken down into 3 different categories:
Keywords: product title, description, search terms.
Visuals: branding, images, infographics, videos.
Reviews: this includes ratings, questions and answers.
While each category is key to make your Amazon listing attract consumers and convert well, we will focus in this article on the visual elements. Why? Because this is what we specialize on and know this area much better than most people out there.
First let's take each element of the visuals and explain what Amazon expects your listing to have. This will include our recommendations to optimize your listing and make it high-converting and visually attractive.
The first point is to ensure your Amazon listing images comply with Amazon's Terms of Service. Failure to do so will result in your product getting suppressed. Here is what Amazon says on their website.
The image must be the cover art or a professional photograph of the product being sold.
Drawings or illustrations of the product are not allowed.
The image must be clear and must not contain gratuitous or confusing additional objects.
The image should be professionally lit, with a realistic color.
The product should fill 85% of the image frame.
The full product must be in frame.
The background should be pure white.
The image must not contain any additional text, or graphics. 
Since this is usually the main reason why listings get suppressed, we recommend following these rules by the book.
The product should always have the exact color, size and scale your product has. This is so crucial that when this is not done properly it will result in angry customers and bad reviews.
If your product cannot be differentiated by color, shape or characteristics, a good way to make it stand out is by adding the the product package (provided your package design is appealing).
Look at the competition and study what angles or arrangement could make your product stand out better.
Try to arrange your product so its at the same level as the title of your listing next to it. It doesn't just flow better but we have tested this and it always has a better CTR.
If your product is a bundle or has several elements, highlight the most important part of the bundle by making it bigger than the rest.
Amazon requires the following points:
The image must be of, or pertain to, the product being sold.
The image must be in focus, professionally lit and photographed or scanned, with realistic color, and smooth edges.
Other products or objects are allowed to help demonstrate the use or scale of product.
The product and props should fill 85% or more of the image frame.
Cropped or close-up images are allowed.
Backgrounds and environments are allowed.
Text and demonstrative graphics are allowed.
Don't clutter your infographics trying to highlight every aspect of your product. Infographics (a clipped compound of "information" and "graphics") are graphic visual representations of information, data, or knowledge intended to present information quickly and clearly.
Infographics should have no more than 2 communications (1 communication is best) about the highlights of the product. Use the top consumer pain points, not every single one.
When creating infographics it is vital that they are designed to be "mobile-friendly" which means they can be clearly seen on mobile. 40% of all online sales are done on mobile.
The additional images should be used to communicate the story of the product, its highlights and the benefits.
Are lifestyle images important? Yes! But only if they are done correctly. Here you should use them to show relative size of the product, how it is used, and to communicate the story of your brand. An image is worth a thousand words, but only if it's a good image.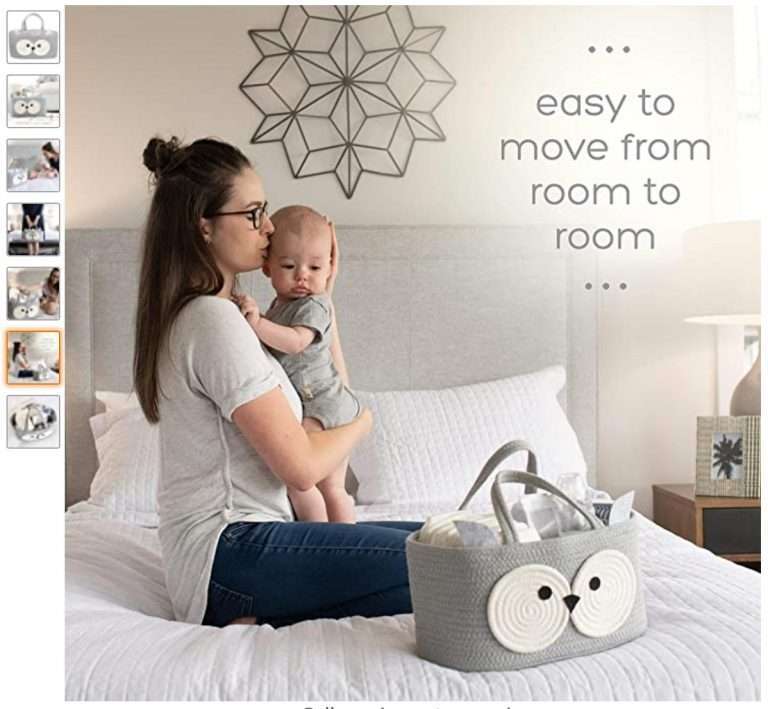 Decisions are made not just on the basis of pricing irregardless of any other Amazon guru's opinions. Marketing experts such as Simon Sinek, Marty Neumeier and Seth Godin agree that any purchases are made on an emotional level. Simon Sinek says:
The best way to influence a purchase or a behavior is through branding.
But the subject of branding is much more complex and is not the purpose of this article. However, no matter how great you think your logo is, how clever you think the name of your company is, when looking for a listing optimization service, you should keep in mind that improving photos and infographics, product description, etc. is all important. But having a cohesive brand that speaks to your target audience is likewise very important, if not more important.
Branding not only gives your company a higher value, but it also generates a community. Seth Godin explains branding as: 
So, branding has little or nothing to do with how proud you are about your logo. Factually branding is not even a logo. Marty Neumeier defines branding as:
In an ever-expanding world of competition in e-commerce, branding is not something great to have, it is a must. Branding is your identity, your reputation, your flag and emblem.
Here is our tip to you. $1,000,000 on sales does not guarantee you have a brand. If your purpose is to go beyond Amazon FBA or FBM, you need to ensure you have an authentic brand with personality. If you want to sell your company in the short or long run, having a relatable brand will make the most out of your efforts.
Looking for help in building a customer-attracting brand?
Principium can help guide you to meet
your business goals.
Get Weekly E-commerce Tips to Help Grow Your Brand